ABOUT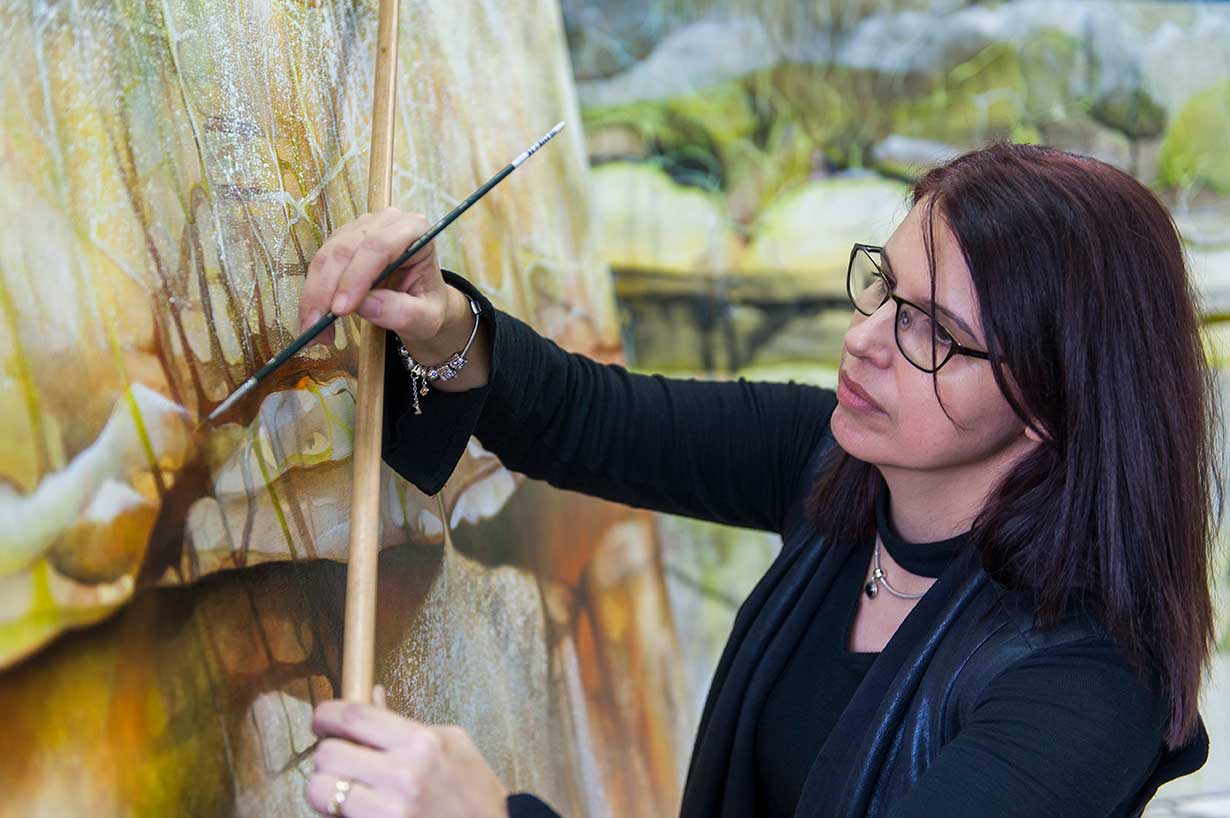 Sue Leeming is an Australian resident born in Taranaki, New Zealand and identifies as New Zealand Maori as well as of English and Scottish descent. She attended The University of Auckland, Elam School of Fine Art and majored in printmaking graduating with a Bachelor of Fine Arts Degree and Post-Graduate Diploma in Fine Art in 1995. Sue immigrated to Perth, Western Australia in 1998.

Her current practice is primarily based around painting and drawing mediums and extends ideas of abstraction, landscape, identity and spirituality. She experiments with the physicality of paint and process, allowing the imagery to spring from process. She is interested in plasticity and psychological responses to both cultural and physical environments.

'Any eye trained in the history of a location will not need to find in it monuments to significance. The most minimal of occasions - a wrinkle in the lands surface - will invoke a whole community of signs, and a whole community of people who understand them'- Ian Wedde (New Zealand writer & curator)

Living in the Peel region has had a significant effect on her sense of place and belonging, the displacement triggering a curiosity to understand how and why the local landscape influences her, particularly in her everyday, and how that resonates with the places that inhabit her mind.

The works represent landscape as a material condition that both shapes and is shaped by psychic subjectivities. Leeming develops a means of articulation and system of signification expressive of her unease at the contradiction between her environment and her identity. Her work describes a relationship to place refracted through structures of belonging like personal customs, historical ephemera and recognition of her Maori, English and Scottish heritage' - Alisa Blakeney

In her latest work, Sue continues to explore the use of the landscape and its abstraction as a metaphor for the human experience. 'It is not so much the land that interests her but the lives of the people its presence suggest.'

'I often find myself travelling through difficult times and in the midst of challenges and struggle, of suffering and loss partnered with joy and hope. I often find there are no words to truly express this state of being, it is a place known to all people and a place that I am denied the ability to articulate. Sometimes there simply are no words.'

For Sue painting is an opportunity to explore the hidden terrain of the heart drawing on intuitive responses to the nature of the medium and synchronicity between the joy of the process and the contemplations of the heart. She is increasingly interested in uncovering those experiences and hidden places of the human psyche, that often become buried, buried alive if you like and awaiting discovery. 'Often it is the internal landscape of our heart that reveals our true sense of self and belonging than the place from whence we came'. There is often a disconnect between the stories we tell ourselves and the stories we tell others and it's not that there is a dishonesty in that disconnect, rather, in that very place lies the potency of truth waiting to be discovered.